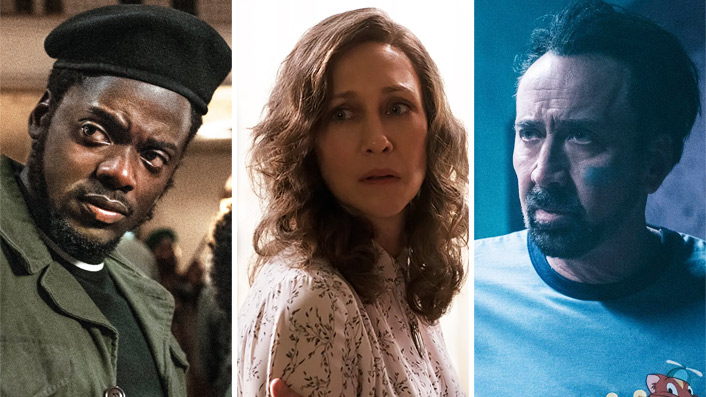 Best new movies and series arriving on NOW in October

---
Every month, a new slate of titles is added to NOW's library of films and TV shows—and critic Clarisse Loughrey picks the very best among them to watch. For the full list of everything arriving on the platform, scroll down.
Top Picks: TV
Miracle Workers is one of television's great hidden gems—an oddball comedy, based on the writings of novelist Simon Rich, that is so resoundingly hopeful in its approach to love and life that it feels like it was destined to be a salve for the pandemic era. In its first season, God—played by Steve Buscemi, of course—was toying with triggering the apocalypse so that he could pursue his dream of running a fusion restaurant.
The second season then turned the dial back to the Dark Age, while the third is set in 1884. A preacher, Ezekiel Brown (Daniel Radcliffe), tries to lead the cholera and hunger-stricken people of his town to a better life across the American plains. Somehow, at some point, that involves him singing "She'll Be Coming 'Round the Mountain" in sparkling, arseless chaps. Nothing is too far-fetched for Miracle Workers.
If you're not already obsessed with the Roy family—the most deliciously devious, mega-rich dirtbags on television today—then there's no better time than now to get acquainted. A pitch-black comedy from Peep Show creator Jesse Armstrong, Succession draws you in first with its audacious soap opera antics, before carefully unveiling the soul of these characters and the deep vein of trauma that runs through them. With Kendall (Jeremy Strong) having ambushed his father Logan (Brian Cox) and put him in a perilous position, things are about to get a whole lot messier.
Jessica Chastain and Oscar Isaac burn up the screen, delivering both rage and desire, in a new adaptation of Ingmar Bergman's 1973 Swedish classic Scenes From a Marriage. Director Hagai Levi has given the piece a more contemporary, American feel, with Chastain's Mira a frosty tech executive and Isaac's Jonathan a philosophy professor who's made mansplaining his second nature.
Levi's camera stalks them through their home, as their arguments grow and distort in a way that may appear uncomfortably recognisable. Bergman's Scenes From a Marriage has a notorious reputation for supposedly driving up divorce rates across Europe; let's hope this version isn't quite as successful.
Top Picks: Movies
"You can murder a revolutionary, but you can't murder a revolution" is a line of dialogue, spoken by activist Fred Hampton (Daniel Kaluuya), that echoes throughout Judas and the Black Messiah. Hampton, the chairman of the Illinois chapter of the Black Panther Party, worked to unite disparate, marginalised people under what he called a "Rainbow Coalition".
But that work was cut short by his assassination in December 1969, as ordered by the FBI and with the help of undercover informant William O'Neal. Director Shaka King tells this story with formidable urgency, drawing from the language of both classic biopics and 70s crime thrillers. And, Kaluuya, who won the Oscar for Best Supporting Actor for his role, brings us a Hampton of both force and fragility.
There are few voices in horror as influential these days as James Wan's. He is the filmmaker, after all, who helped nurture into being the Saw, Insidious and Conjuring franchises. And, though the third Conjuring film, subtitled The Devil Made Me Do It, has been passed off to The Curse of La Llorona's Michael Chaves, it still bears the same hallmarks: classic haunted-house thrills shot with a 70s flair, coupled with a surprisingly romantic ode to the marriage of real-life paranormal investigators Ed and Lorraine Warren (played here by Patrick Wilson and Vera Farmiga).
In this latest instalment, the Warrens are roped into a sensational court case in which a young man, charged with murder, claims that he was possessed by a demon.
The most surprising thing about this thoroughly tongue-in-cheek, violent spin on the popular Five Nights at Freddy's game isn't the scene of Nicolas Cage ripping the mechanical spine out of an animatronic bird—it's the fact his character, credited only as The Janitor, doesn't say a thing. But Cage is more than content to grunt and punch his way through this absurdist invocation of both western and horror tropes.
His Janitor is tasked with spending the night cleaning the titular Willy's Wonderland, a former family fun centre populated by all-singing, all-dancing animatronic mascots, now abandoned. It's a dead place…or have these robots taken on a life of their own?
All titles arriving on NOW in October
October 1
Obama: In Pursuit of a More Perfect Union
Judas and the Black Messiah
October 4
Impossible Animals: Kids
Miracle Workers: Oregon Trail (Season 3)
October 6
Brassic (Season 3)
October 8
Voyagers
October 9
No Sudden Move
October 11
Wonder Raps
Norm Of The North: King Size Adventure
Scenes from a Marriage
October 15
COBRA: Cyberwar
The Little Things
October 16
Breaking News In Yuba County
October 18
Succession (Season 3)
October 22
Monster Family 2
October 23
Queen of Speed
October 28
Temple (Season 2)
October 29
The Conjuring: The Devil Made Me Do It
October TBC
​The Good Doctor (Season 5)
Willy's Wonderland