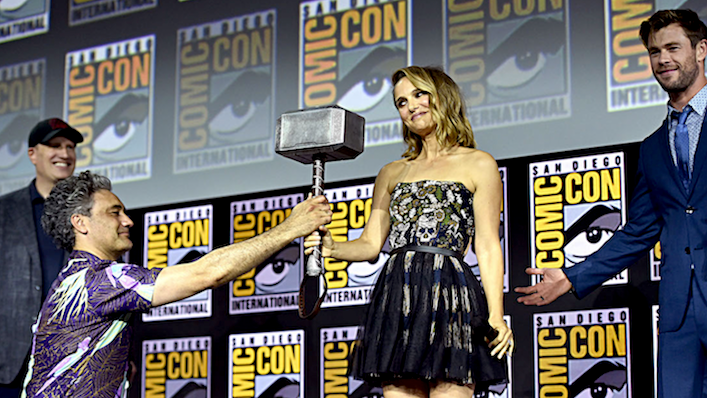 When will Thor: Love and Thunder be released in the UK?

---
Thor was once one of the Marvel Cinematic Universe's most boring characters, TBH: of course Chris Hemsworth did decent work as a musclebound Asgardian thunder god, but it wasn't until Thor: Ragnarok that we saw the hilarious, space opera potential of his galactic world.
Marvel fans can't wait for the fourth entry in the Thor saga, especially with Taika Waititi directing once again, and returning heroines Natalie Portman and Tessa Thompson taking on more of a lead role than ever before. Thor: Love and Thunder is scheduled to strike cinemas across the UK on May 6, 2022.
Waititi has brought the whole merry Marvel gang to Australia, where filming already wrapped earlier this year. Here he's dotted-up to seemingly play the motion-capture rock monster Korg one more time, next to an extremely veiny Hemsworth, who promises "batshit crazy off-the-wall-funny" antics.
View this post on Instagram
While we don't have an official trailer yet, there's been some very promising sneaky peeks from the set of Thor: Love and Thunder, including the below pics of Thor's latest 80s ratbag get-up, Valkyrie suited up and taking a break from trying to "find her queen", and Natalie Portman inviting us all to the gun show. Mjolnir must be really heavy.
The main trio of Thor: Love and Thunder ⚡️ pic.twitter.com/5YESW81vUP

— Thor: Love and Thunder News (@lovethundernews) July 12, 2021
Further filming in California led to some shadowy photos that hint at the upcoming film's villain, Gorr the God Butcher (sick name). But let's be real: is there any way of confirming that it's actually Christian Bale under that face-concealing grey caul?
The first look at Christian Bale as Gorr the God Butcher in Thor: Love and Thunder!

Filming has resumed in Malibu

(via Daily Mail) pic.twitter.com/2RHo4zG1VJ

— Thor: Love and Thunder News (@lovethundernews) August 4, 2021
It's a long wait from now until May of next year, but it'll all be worth it to see how Waititi and Marvel transform Portman's character of Dr Jane Foster from a relatively thankless victim/love interest role into her own epic, hammer-swingin' superhero. Here's hoping that lightning can strike twice in the same spot.
Eight months til "Thor: Love and Thunder" 😁 pic.twitter.com/WK3nKASgYh

— Hutch (@hutchinson) September 18, 2021