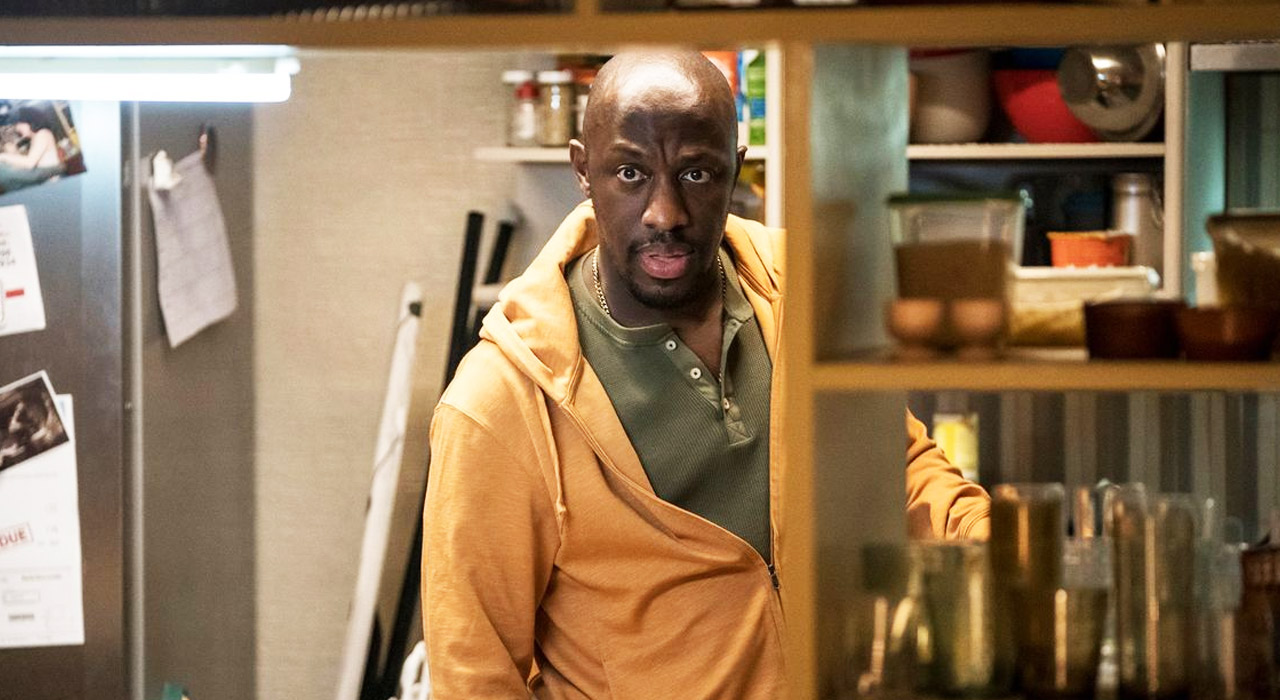 Death of England: Face to Face dares to show the true face of post-Brexit Britain

---
A friendship combusts under the pressure of lockdown, racial inequality, and most of all, performative allyship, in theatre adaptation Death of England: Face to Face. Clarisse Loughrey calls it 'captivating'.
"England has f***ed you. Hard." In the National Theatre's latest filmed play, Death of England: Face to Face, these five hollow words are the only real consolation that Michael (Neil Maskell) can conjure up for his childhood best friend, Delroy (Giles Terera).
Michael is white. His father was a monstrous racist and he can't quite stomach all that inherited guilt, so he tiptoes around the fact with delicate little euphemisms like, "my dad had…tendencies". Delroy is Black, and currently on house arrest after being racially profiled by the police.
He hasn't yet been able to meet the daughter he had with his partner Carly, who also happens to be Michael's sister—a burden compounded by the fact Face to Face is set in the middle of lockdown. And so Michael, in a fit of madness or compassion (you decide), decides to break COVID rules and turn up at Delroy's house with the infant.
The title Death of England first belonged to a 2014 short drama commissioned by London's Royal Court theatre, written by Roy Williams and Clint Dyer. The piece was then developed into two separate National Theatre productions in 2020—a monologue delivered by the Michael character, as played by Rafe Spall, and then one delivered by Delroy, as played by Michael Balogun. The latter opened and closed on the same night in November 2020, as new lockdown measures kicked in.
The pieces were largely reflective of a post-Brexit Britain, rife with division and insecurity. But it's astonishing to think of where we are now—in a place that feels both radically different and much the same, with the pandemic and Black Lives Matter protests serving only to draw big, red circles around the fundamental inequalities of British society.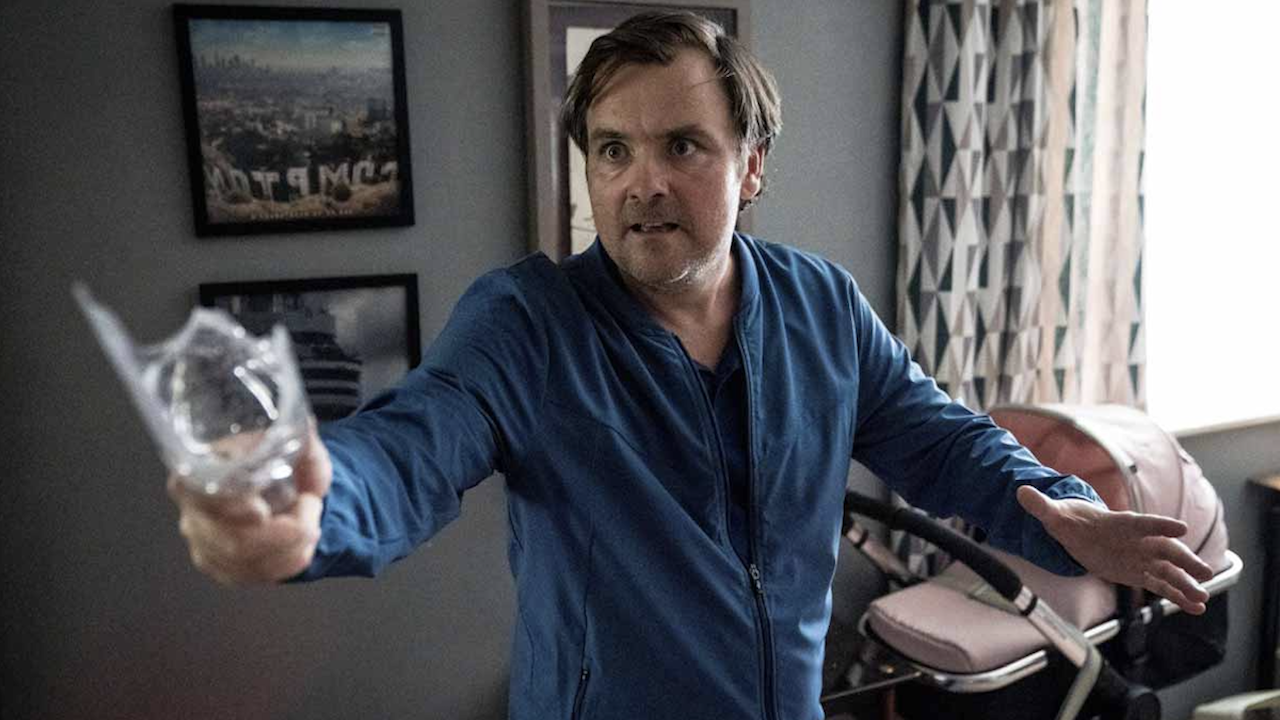 This third chapter, shot in the same performance space as the recorded version of Josh O'Connor and Jessie Buckley's Romeo and Juliet, arrives on television screens like a thunderclap. It's captivating precisely because it holds no pretensions about itself. There are no calls to unity within its monologues, no sweeping statements about the future. It dares to show us the true face of Britain—lost, angry, repulsive, hopeful.
Michael seems to have been profoundly affected by the death of George Floyd. But he seems to almost expect something in return. A pat on the back? Absolution? Where was his conscience during all the years that he stood by while Delroy suffered racial abuse—or the times that he himself joined in? Why is he so suddenly disturbed by Delroy's confession that he's glad his daughter wasn't born a Black boy like him?
Williams and Dyer here offer the necessary rebuttal to a year of liberal media patting itself on the back for the vague acknowledgement that racism does, indeed, exist. Through Michael and Delroy, we see how performative allyship looks and functions in everyday spaces, leading the latter to declare: "I want you to stand with me, not for me".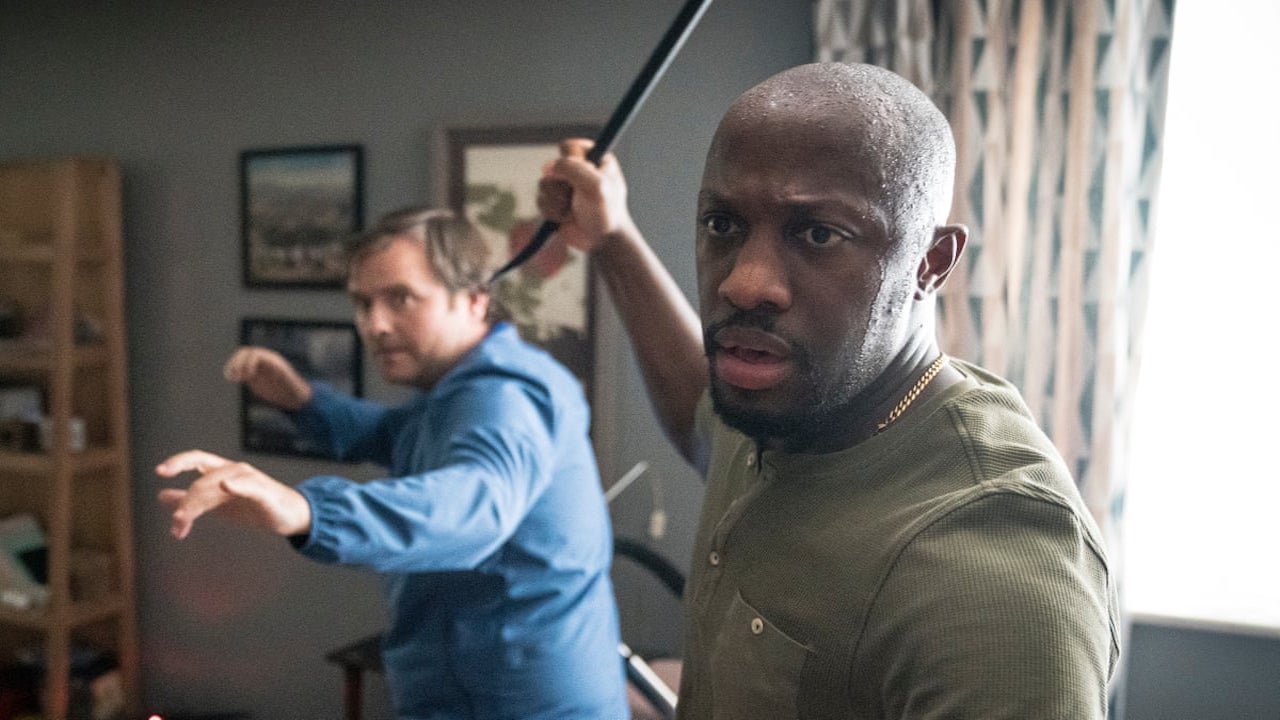 The easiest, most obvious route here would be to keep things as self-contained as possible—to lock its protagonists in one room and watch them crawl up the walls. But Face to Face isn't really concerned with the physical claustrophobia of living through a lockdown, but rather the feeling of having nowhere to escape from your own thoughts.
Though we see other characters on occasion—a mother, a sister, a neighbour—Michael and Delroy always speak on behalf of them. Not only does that preserve the storytelling structure of the original Death of England monologues, but it traps us, the audience, within their own subjectivity. Sometimes the camera swoops in so close to their faces that you think it might actually shoot up their nostrils and into their brains.
Face to Face is all about pushing intimacy to a point where it starts to feel uncomfortable, and Maskell and Terera (who was originally meant to play Delroy on stage), are both arresting performers. When they turn towards the lens and address the audience, it's confrontational, but not unfamiliar. We feel welcomed into this old and ragged friendship. And when Delroy, reflecting on the ways that COVID disproportionately affects Black people, asks "why is it always us?", we're invited into that despair. England might be dead, but perhaps some unity can be found if we share the grieving process.